I would like to introduce to you Marisol of Sol Cakes. she lives locally in central florida and is an amazing artist. Her work is 100% gluten free and tastes as delicious as it looks!
My personal favorites, cookies sandwiches and the Hot Fudge Sundae Cupcake! Oh and the almond butter cup, it's about the size of your fist!
For you locals you usually can find her cupcakes and other amazing goodies she makes at Mr. Submarines in Titusville, Florida.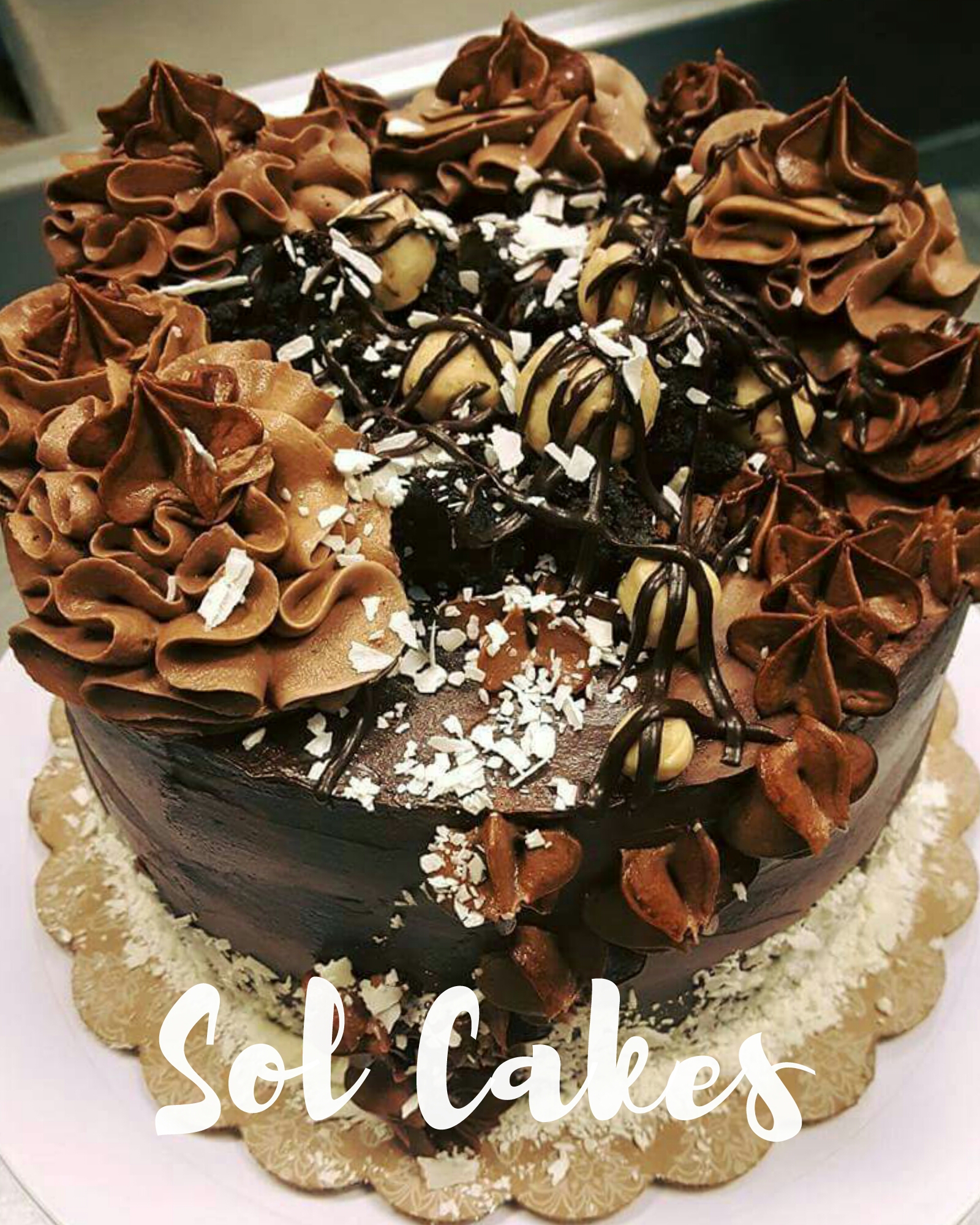 How did your business come to be? What is the story behind your brand?
Funny, my business came about completely by accident. I have always enjoyed baking for my family and was asked casually a couple of times to create cakes for extended family and friends. I really became a determined baker when I developed an allergy to gluten almost 4 years ago. It was hard to find anything that was gluten free, especially for special occasions, so being the sweets addict that I was, set out on a mission to create desserts that were just as good or better than the gluten filled treats I used to be able to consume. A friend of a friend once said about one of my cakes " You could totally sell this"...that was what first planted a little seed initially just a few years back. In April of 2016 while I was living in Michigan where there weren't really any specialty bakeries at all, just before our move back down to Florida, I created a Frozen themed birthday cake for my daughter's birthday that ended up getting a lot of attention. My neighbor then asked me the next week to create a Superhero/DC comics birthday for her son's birthday, which was also a huge hit, and before I knew it, I was getting messages from people I didn't even know asking if I could create cakes for their special occasions. Between that, I started making gluten free gourmet cupcakes that people could not believe were gluten free at all.
My new brand was Sol Cakes: Gourmet Gluten free treats, providing treats, cakes, and cupcakes that were unique flavors and appeased to even the non gluten free crowd. Safe for a Celiac, but enjoyed by all. I really wanted everyone to say, "That is the best___I have ever had." It comes from my personal pickiness :-)
How long has your business been open?
I was baking out of my home since April of 2016, but I spent some time in a commercial kitchen for about 6 months, starting in November of 2016, in which I officially registered as an actual business under 'Sol Cakes'. So, officially registered as Sol Cakes for 10 months, but I've been baking for others under cottage foods for about 15 months now :-)
How did you come to name your business?
I wrote down a list of names that were appealing to me and actually did a Facebook poll to see what my Facebook friends thought, lol. I was leaning towards including my name somehow in the name of my bakery. My name means Sea (Mar) and Sun (Sol) when translated into English. I'm also a native Floridian who loves the beach and sun, and one of my friends suggested Sol Cakes. Perfect,I thought! It incorporated everything I was looking for and also sounded kind of fun and groovy, like Hippie-ish, I thought, lol!
What is your favorite thing about your business?
Making someone's special occasion great because they could enjoy a treat or cake that they haven't had in a long time due to allergies....and hearing that not only did they enjoy it, but the rest of their family did too! I love hearing, "I can't believe this is gluten free!" and people say they have to double check the ingredients to make sure it is, ha ha!
What are your future goals?
I really would love to open a store front/gourmet gluten free bakery one day! I am dreaming of it! It will require my all because I'm such a perfectionist, so right now is not that time since my kids are still on the younger side and really need me. We are a homeschooling family currently and hubby works an odd schedule, so it's not an ideal situation at the moment!
What has been your biggest accomplishment in your business?
My business grew so quickly in just 6 months, I was shocked and actually couldn't keep up! That's a good thing! I was pleasantly surprised to see the high demand for gluten free and allergy free baked goods in Florida, so to say that it grew so quickly being a gluten free only bakery, was surprising to me.
What do you most enjoy doing or what brings you the most joy in your business?
I get completely lost when I decorate my cakes and cupcakes! Especially when it comes to fondant covered cakes because I love to hand paint on them and on the sculpted pieces...it's a unique thing to do! I've been an artist all of my life! A lot of my customers have somewhat of an idea of what they want in their design, but end up leaving the rest up to me! I feel so trusted, lol! No really! I enjoy the creative freedom.
What is one tip you can share with other brides?
I was a bride myself, twice actually. For me the important things are to make sure you have good food, really great cake (don't forget to save a piece for your anniversary), a great photographer to capture your special moments to look back on, and truly don't forget to relax and enjoy your special day! It's so easy to get caught up in the little details and get stressed on your wedding day. It shouldn't be a stress filled event, but a truly joyous day! Oh, and make sure to take that honeymoon you've been wanting before life catches up with you! Just some things I learned the first time around ;-)